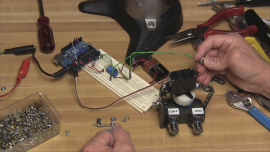 AmateurLogic.TV Episode 70 is now available for download.
George builds a remote control antenna disconnect switch with an Arduino and a Servo. Tommy experiments with the MFJ Ultrasonic Noise Locator. Peter participates in the 2014 DATV QSO Party.
Details on our 9th Anniversary Sweepstakes giveaway of the Ultimate Mobile Station.
Upcoming personal appearance, events and more…
1:20:13 of ALTV Enjoyment.