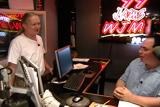 Episode 2 is now available for download! We visit Inner City Broadcasting's Radio Studios in Jackson and speak with Roger Lamb, Director of Technical Operations.
Plus we introduce two new segments to the show:
Jim hosts 'Website Roundup', where we discuss interesting sites.
'From The Bench' with George hacks a Firewire cable to determine the correct wiring diagram for DV.
The entire show runs 57 minutes and change.
View in web browser. YouAre.TV or Google Video
Email your comments to one of our 'Contact' addresses. We hope you have as much fun viewing this as we did making it.