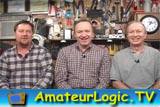 AmateurLogic.TV Episode 5 is now available for download!
If you've ever wondered what a Hamfest is, then this episode is for you. We visit Jackson Amateur Radio Club's '2006 Capital City Hamfest'.
We've got an ARRL net being called, highlights from the Skywarn Forum, ARRL Katrina Review, an amateur radio Satellite Demonstration and lots more.
Plus Tommy's back with another 'PhotoTip' and Jim introduces a new segment on 'Network Tools'.
For those interested in learning more, there are also full length versions of the forums available on the downloads page as well.
To learn more about Amateur Radio please visit www.arrl.org
We hope you enjoy AmateurLogic.TV Episode 5. We'll be back again next month with a regular show.
The show runs about 39 minutes.
Please Email your comments to one of our Contact addresses.
View in web browser. YouAre.TV or Google Video