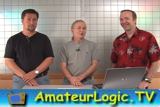 AmateurLogic.TV Episode 6 is now available. Click to download!
We're back with the first episode from our new set.
This month Jim runs a few benchmarks to determine if the Apple MacIntel is ready for prime time.
IPTV show producers get ready… George hacks the Radio Shack Lavalier Microphone (#33-3013) to add phantom power and better performance.
Exposure is one of the most misunderstood areas of photograph. Tommy's back with another Photo Tip that you won't want to miss.
Plus we answer your viewer mail and tech questions.
The show runs about 34 minutes.
Please Email your comments to one of our Contact addresses.
View in web browser. YouAre.TV or Google Video