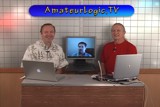 AmateurLogic.TV Episode 8 is now available for download.
It's been a great summer and now we're back to kick off season 2. In this episode Tommy brings us another great photo tip. This one's about using your camera's RAW mode.
Jim shows us part one of his recent capacitor building adventure.
And George demonstrates the weird ways that some devices receive their electrical power.
The show runs about 54 minutes.
Please Email your comments to one of our Contact addresses.
View in web browser. YouAre.TV or Google Video