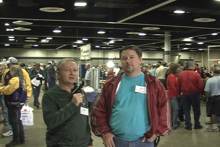 AmateurLogic.TV Episode 19 is now available for download.
George and Tommy attend one of the best hamfests in the South. The 2008 Capital City Hamfest in Jackson, MS. Join us as we visit with familiar faces, explore boat anchors, buy gear and more. Plus we've got coverage of the Introduction to Ham Radio, Antenna Theory and QRP Kit Building forums.
It's 44:49 of Hamfest fun.
View in web browser YouTube or Google
Note: Episode 19 contains shortened versions of the forums. The Full length forums are available for download separately.