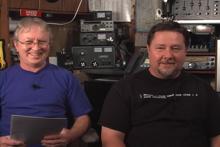 AmateurLogic.TV Episode 23 is now available for download.
Back from a long summer vacation, George and Tommy visit the Capitol City Hamfest and run into an old friend. Peter shows us how to create a warm spot. Plus plenty of Amateur Radio news and Viewer email.
48:54 of AmateurLogic goodness.
View in web browser YouTube