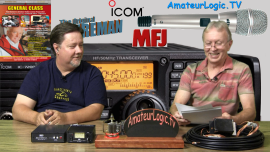 AmateurLogic.TV Episode 44 is now available for download.
It's the end of season 7 and we still have unseen video, so here's a bonus episode.
George and Wayne's Excellent Adventure to the 2012 Huntsville Hamfest. Get the backstory on this very successful Hamfest. Interviews you won't see elsewhere.
Peter shows us the popular new $20 TV Dongle SDR project.
Special announcement on the upcoming AmateurLogic.TV Complete HF Station Giveaway!
01:01:37 of AmateurLogic fun you don't want to miss.
Now in HD where available!
Download
View in web browser: YouTube