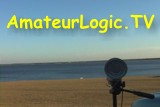 AmateurLogic.TV Episode 4 is now available for download!
We're back with the Active Cantenna to finally do some range testing. Thanks to Amateur Radio and a couple of video cameras, we put you right in the action. Ride "Shotgun" with Jim as we test WiFi's advertised 300′ range. We were pleasantly surprised….
There are more great web sites under review in 'Website Roundup'.
Tommy performs a little Digital Photography Magic by producing a 10 Mega Pixel image from a 6 Mega Pixel camera!
PLUS, there's a surprise visit from some other popular IPTV Show hosts.
The show runs about 39 minutes.
As always, Please Email your comments to one of our Contact addresses .
View in web browser. YouAre.TV or Google Video