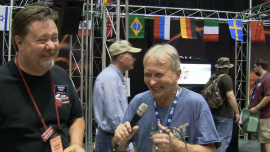 AmateurLogic.TV Episode 40 is now available for download.
George and Tommy visit Dayton Hamvention 2012 and cover a couple of events you might not normally see, The Icom Dealer Dinner and Top Band Dinner. Special guests: Bob Heil, K9EID(Heil Sound) – Gordon West, WB6NOA(GordonWestRadioSchool.com) – Ray Novak, N9JA(Icom) – Tim Duffy, K3LR(Contest University) – Tom Medlin, W5KUB(W5KUB.com) – John Davis, WB4QDX(GA D-Star Group) – Jim Wilson, K5ND(Boy Scouts of America) – Julian Frost, N3JF(Ham Nation) – Robin Cutshaw, AA4RC(DV Dongle/DVAP) – Martin Jue, K5FLU(MFJ Enterprises) and more.
01:09 of George and Tommy's Excellent Adventure in Dayton.
Now in HD where available!
Download
View in web browser: YouTube