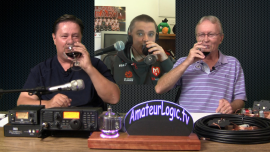 AmateurLogic.TV Episode 45 is now available for download.
AmateurLogic.TV is celebrating our 7th Anniversary. Join us for highlights and the backstory on some of our favorite scenes. We found you can't fit 7 years into a 1 hour show, so this is part 1. Part 2 is later this month.
To our loyal viewers, here is a chance to win a FREE complete HF Amateur Radio Station. Watch the show for complete details.
50:01 of AmateurLogic history.
Now in HD where available!
Download
View in web browser: YouTube