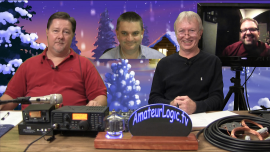 AmateurLogic.TV Episode 48 is now available for download.
George shows us how to setup an HF Radio Station. Tommy builds a Foxhunt beacon with the Arduino. Peter has a Raspberry Pi present for you. Emile talks about hi tech cheap stuff.
We give away the Complete HF Station featuring great gear from Icom, MFJ, Wireman Heil Sound and Gordon West Radio School.
Santa Tracking, The end of the world and more…
59:51 of holiday entertainment.
View in web browser: YouTube