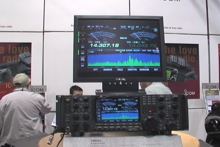 AmateurLogic.TV Episode 13 is now available for download.
At last, the long awaited Episode 13!
New gear, old junk, and interesting characters… Tommy and Jim visit the worlds largest amateur radio gathering and bring us back some great footage from the 2007 Dayton Hamvention. Meet Tom, WA5KUB and learn more about his live helmet cam.
In this episode we also introduce Peter from downunder, with hamfest coverage from the Moorabbin and District Radio Club Hamfest in Melbourne, Australia.
And our friend Foxx from the BSOD show stops by with a money saving tip on building your own Homebrew Crimpers.
It's 50 minutes of Amateur Radio goodness…