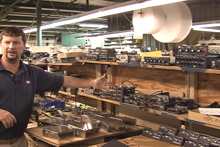 AmateurLogic.TV Episode 17 is now available for download.
Ever wonder how your electronic equipment is built.
Join us this month for a factory tour of MFJ Enterprises with Richard Stubbs. Very interesting… You don't want to miss it!
Peter unvails his Amateur Television station and demonstrates ATV in Melbourne.
And Tommy shows us a new web site that makes finding repeaters a breeze. Google maps display the locations for easy viewing.
It's 57:43 of Ham radio fun just in time for Thanksgiving.