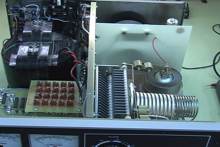 AmateurLogic.TV Episode 18 is now available for download.
Ameritron builds the most popular RF linear amplifiers on the market today. Come with us behind the scenes to see what's inside them and how they are built. It's the Ameritron Amplifier factory tour, where you will learn all about these tube type and solid state amplifiers.
We hope you enjoy this 28:30 of Ham radio fun for your Christmas holiday viewing.