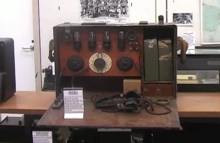 AmateurLogic.TV Episode 21 is now available for download.
Episode 21 features part one of a tour of the very interesting Australian Army's Signals Museum. Tommy gives us a quick look at editing video. George introduces the MFJ-259B Antenna Analyzer and some of it's capabilities. And Peter attends the Wireless Institute of Australia's annual general meeting in Broken Hill where he also visits the "School of the Air", the "Flying Doctors" and more.
It's 1 hour and 10 minutes of Ham Radio entertainment.
View in web browser Google Video or YouTube