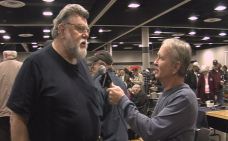 AmateurLogic.TV Episode 27 is now available for download.
Sit back and enjoy the Hamfest as we visit with new and old friends.
Its a review the 2010 Capital City Hamfest in Jackson, MS and the CCARC Wyong Field Day (an Australian hamfest). Both of these are large events that continue to grow each year.
There were huge amplifiers, new gear, old gear and lots of fun for all. We also learn about the CamRadio Network, a new Dick Tracy device and much more. And if thats not enough, Jim is back in this episode.
It's 56:00 of Amateur Radio entertainment you don't want to miss.
View in web browser: YouTube