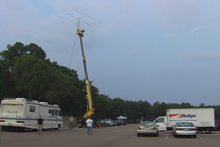 AmateurLogic.TV Episode 14 is now available for download.
It's the Field Day Special! Join us as we visit with the Jackson Amateur Radio Club and learn all about Field Day.
Plus we've got two unique AmateurLogic spins on Field Day…
Jim's poolside station set up is educational and entertaining.
George's station uses a unique power generator many own, but don't think of.
Peter visits the WIA (Wireless Institute of Australia) to discuss the new Foundation class license that's adding significant numbers to the hobby downunder.
It's 59:31 of prime AmateurLogic laughs, information and entertainment you don't want to miss.