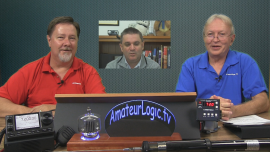 AmateurLogic.TV Episode 69 is now available for download.
In this episode Peter demonstrates a new microcontrolled component test. George talks all about Dummy Loads. Tommy shows us the new DV Mega Raspberry Pi D-Star Hotspot. And a visit to the K7LWH D-Star Repeater site in Bellevue Washington.
We also announce our 9th Anniversary Sweepstakes where some ham is going to win the Ultimate Mobile Station.
1:20:46 of premium Ham Radio content.