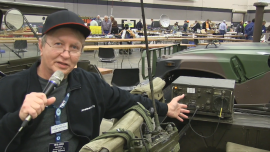 AmateurLogic.TV Episode 63 is now available for download.
Tommy and George visit the Jackson Amateur Radio Club's 2014 Capital City Hamfest and bring back some unique stories. A special appearance by the guys from Ham Dynasty. Peter talks All About Radio. Tommy shows us simple tips to Secure Your Pi. And George brings us some Soldering Tip Tips.
1:04:52 of ALTV with the usual suspects.
View in web browser: YouTube