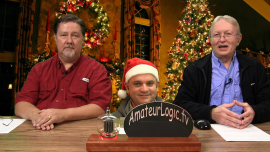 AmateurLogic.TV Episode 61 is now available for download.
It's the AmateurLogic Christmas Spectacular. Join the crew and special guest for a festive holiday event.
Peter hacks his Degen SW Receiver. Tommy puts the Arduino on TV. George trudges on in his effort to use the Raspberry Pi as an Echolink node. And a hilarious look at the 2013 ALTV Holiday Gift Guide.
A 1:13:08 AmateurLogic celebration of the season and other good stuff.
View in web browser: YouTube