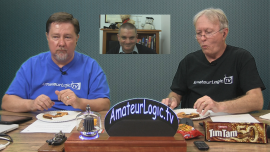 AmateurLogic.TV Episode 64 is now available for download.
Peter sends Tommy and George some Australian treats. See how they react to Vegemite.
George has an introduction into cheaply receiving and decoding digital signals.
Peter brings us the Making of AmateurLogic Downunder.
Tommy builds an Arduino Heads-Up display for use with rigs that have Cat ports and more.
1:16:45 recorded live before an Internet audience.
View in web browser: YouTube