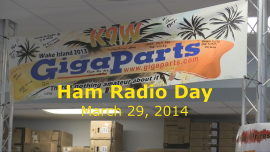 GigaParts 2014 Ham Radio Day Special is now available for download.
On March 29, 2014 Tommy and George visited the annual GigaParts' Ham Radio Day. Come along for the trip and see interviews you won't find anywhere else. Ray Novak from Icom America, Phil Parton from Kenwood, Dennis Motschenbacker from Yeasu, Emmett Hohensee from Radiowavz, Richard Stubbs from MFJ, George Howard from GigaParts, Charlie Emerson from Huntsville Hamfest, and Tom Medlin from W5KUB.
53:06 of Huntsville fun.