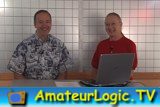 AmateurLogic.TV Episode 7 is now available for download.
It's been a busy couple of months for us all. But as promised, here's episode 7.
George introduces us to a voice over IP technology for amateur radio named EchoLink.
Jim's back with another Network Tools segment on NMAP.
Plus we've got some footage from the annual National Association of Broadcasters convention in Las Vegas.
This show is the season wrap-up episode as well. We're taking off for the summer and hope to see you all again this fall…
The show runs about 36 minutes.
Please Email your comments to one of our Contact addresses.
View in web browser. YouAre.TV or Google Video