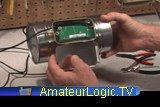 AmateurLogic.TV Episode 3 is now available for download!
No interviews this time… We build a high performance 'Active Cantenna' from parts that you should be able to find locally. The big advantage is that you can have a very long cable to the cantenna without any signal loss, which is not possible on other designs.
The construction is shown in enough detail that one could follow along and build their own.
Jim is back with another 'Website Roundup' segment.
And Tommy introduces 'Photo Tips'. This episode's topic is White Balance.
The show runs about 46 minutes.
Please Email your comments to one of our Contact addresses. As always, we had a blast making this and hope you enjoy viewing it.
View in web browser. YouAre.TV or Google Video